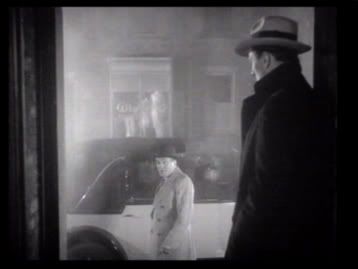 Un film de Lewis Milestone avec Thomas Meighan, Louis Wolheim et Marie Prevost
Chicago, Nick Scarsi (L. Wolheim) règne sur le marché de l'alcool clandestin. Il a des appuis nombreux parmi la police et les politiciens. Mais, un policier intègre, le capitaine James McQuigg (T. Meighan) va essayer de l'arrêter...
Ce film muet de Lewis Milestone peut être considéré comme un des tous premiers films noirs. C'est d'ailleurs en revoyant The Big Heat (1953, F. Lang) qui développe des thématiques assez similaires que j'ai eu envie de revoir The Racket. Le film a été produit par Howard Hughes et a disparu de la circulation pendant près de 80 ans avant d'être restauré en 2004. Milestone utilise une adaptation d'une pièce de Broadway où E.G. Robinson avait brillé dans le rôle de Nick Scarsi. Mais, pour le film, le gangster est joué par l'excellent Louis Wolheim qui apporte une touche d'ironie à son gangster sans foi ni loi. Ses échanges avec Thomas Meighan ressemble à un jeu du chat et de la souris. Il l'invite même à diner avec ses amis gangsters ; une petite soirée qui vire rapidement au règlement de comptes avec le gang adverse. Thomas Meighan apporte sa décontraction et son flegme dans le rôle de McQuigg. Il ne se fait guère d'illusions sur la corruption au sein de la police et parmi les édiles de Chicago. Il ira néanmoins jusqu'au bout. Il en vient lui aussi à utiliser des méthodes légèrement hors la loi pour venir à bout de son adversaire. En effet, Scarsi est tellement bien protégé que même lorsqu'il commet un meurtre, son avocat l'attend déjà au poste de police avec un Habeas Corpus pour le faire relâcher. McQuigg va lui aussi biaiser et utiliser habilement la grappe de journalistes qui passent la journée au poste de police pour répandre certaines informations. Le film est une grande réussite grace à ses excellents interprètes très typés dans tous leurs rôles: les journaleux gratte-papiers qui picolent en douce, les flics et les gangsters au faciès peu engageant. Milestone sait rendre l'atmosphère glauque du Chicago de la prohibition avec humour. Le film est très bien mis en scène en particulier les scènes d'action où s'affrontent les gangs. La dernière partie se déroule entièrement dans un commissariat et cette unité de lieu rappelle The Front Page que Milestone mettra en scène quelques années plus tard. Une belle réussite.