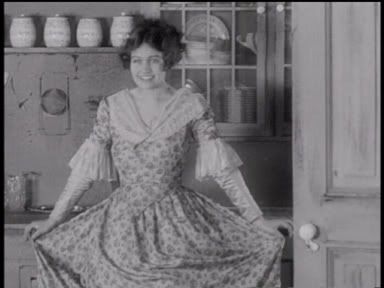 Un film d'Alice Guy-Blaché avec Doris Kenyon, Carlyle Blackwell et Edgar Norton

Millie (D. Kenyon), une enfant trouvée, s'enfuit de la cabane de son père adoptif qui la bat. Elle trouve refuge dans une maison abandonnée. Mais, peu après, un écrivain, Donald Roberts (C. Blackwell) vient s'installer là pour écrire. Elle se cache dans le grenier...
Alice Guy fut la première réalisatrice de cinéma au monde (homme et femme confondus). Elle avait été embauchée comme secrétaire de Léon Gaumont peu de temps avant l'arrivée du cinématographe en 1895. Elle fut ignorée pendant des décennies par les historiens du cinéma. En 1910, elle quitta la France pour les USA avec son époux Herbert Blaché. The Ocean Waif appartient à sa carrière américaine. Le film ne nous ai pas parvenu dans sa totalité dû à la décomposition. Mais, il forme néanmoins un ensemble cohérent avec des intertitres pour remplacer les manques. Cette histoire simple filmée en décors naturels a énormément de charme ainsi que de l'humour. La jolie Doris Kenyon -qui deviendra une star quelques années plus tard- offre son beau visage à cette enfant perdue qui se métamorphose sous l'influence de l'écrivain qu'elle rencontre. Enfilant une vieille robe du siècle passé, elle devient une femme désirable plutôt que la sauvageonne qu'elle était. Il est amusant de reconnaitre Edgar Norton, qui jouera tant de domestiques comme dans Dr Jeckyll and Mr Hyde (1931), en valet de l'écrivain. Une scène a particulièrement retenu mon attention. Carlyle Blackwell prend dans ses bras Doris Kenyon alors que le vent secoue les herbes folles autour d'eux donnant à la scène un mouvement et une ampleur intéressante. Un joli film disponible en DVD chez Kino Video aux USA.