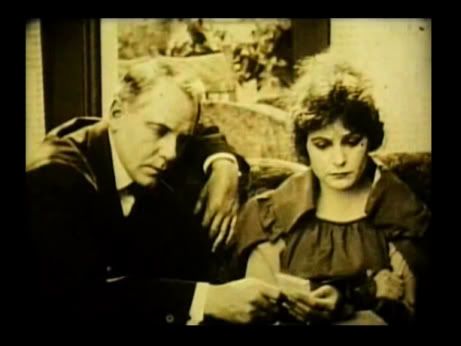 Ralph Lewis et Norma Talmadge
Un film de Sidney Franklin et Chester M. Franklin avec Norma Talmadge, Ralph Lewis et Eugene Pallette
Les époux Remington (R. Lewis et N. Talmadge) se souviennent de leur passé criminel au sein d'une bande de gangsters. Devenus maintenant des citoyens honorables, leur vie est soudainement mise en péril par Briggs (E. Pallette) leur ancien chef de bande qui les fait chanter...
Briggs: Eugene Pallette
Au milieu des années 10, les frères Franklin (Sidney et Chester) sont réalisateurs au sein de la compagnie Triangle où ils tournent des longs métrages en 5 bobines avec les acteurs sous contrat de la compagnie. On peut voir en particulier au sein du coffret More Treasures from the American Film Archives, l'excellent Gretchen The Greenhorn (1916) avec Dorothy Gish et Eugene Pallette tourné dans les quartiers populaires de Los Angeles. Going Straight est encore plus ambitieux dans sa narration avec un exemple de flash-back, encore bien rare à l'époque. Nous suivons un couple, à priori sans histoire, les Remington qui sont parfaitement insérés dans la bonne société. Mais, la lecture d'un article de journal leur rappelle leur passé criminel. Ils faisaient parti de la bande de Briggs (joué par un Eugene Pallette mince et inquiétant) et participaient à des vols et cambriolages. Un jour, John Remington (R. Lewis) a été arrêté et emprisonné. Mais, suite à la naissance de leur premier enfant, il décida de se réformer complètement. Malheureusement, une rencontre fortuite avec Briggs va faire resurgir le passé inéxorablement. La qualité du film repose sur différents facteurs. Il y a d'abord le jeu des acteurs : Lewis, Talmadge et Pallette sont naturels et sans emphase. Et puis, le film a pratiquement été entièrement tourné en décors naturels, sans aucun doute dans les bas quartiers de Los Angeles, ce qui donne au film une qualité quasi documentaire. Le récit est parfaitement structuré, sans temps mort. Et de plus, la cinématographie de ce petit film est superbe. Avec le plus souvent un éclairage naturel, on voit apparaître Briggs à contre-jour ou encore, on voit Norma Talmadge près d'une fenêtre avec un rayon de soleil dans les cheveux. le film contraste habilement les bas-fonds où vit Briggs, qui fréquentent les asiles de nuit où l'on paie trois cents pour dormir à même le sol dans un local surpeuplé et exigu, et la maison confortable des Remington. Au total, c'est un très joli film superbement exécuté et joué.